Stephani-
Volksschule


Grundschule


Hauptschule


Termine


Aktuelles


Schulgeschichte

Jüdisches Leben
in Gunzenhausen
E-Mail
Hauptschule

Stephani-Volksschule Gunzenhausen
---
Jüdisches Leben in Gunzenhausen


Hannah Rebelein und Lukas Bilek
Die Geschichte des Hauses Nürnberger Straße 17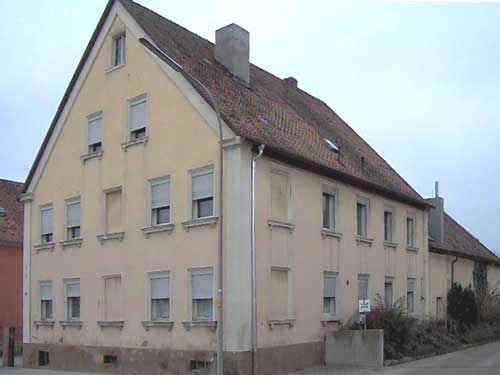 Das Haus Nürnberger Straße 17 heute
Baujahr:

Unbekannt

Bauherr:

Unbekannt

Besitzerwechsel

1906 - 1911 wird die Getreidehändlerswitwe Sophie Bergmann als Hausbesitzerin genannt

Seit 1934 im Besitz der BayWa

1946 - 1961 Fahrschule von Willy Wolf,
ab 1961 von Sohn Heinz Wolf weitergeführt

1979 Ludwig Schuster: Einzel- und Großhandel mit Zweirad- und Kfz-Teilen, Gartengeräten, Sportartikeln, Tabakwaren und Spirituosen

1973 - 1990 Reifenhandlung von Rudolf Heinz

Heute ist das Haus im Besitz der Stadtwerke Gunzenhausen. GmbH
Quelle: Häuserregister der Stadt Gunzenhausen
Die Geschichte der Familie Isidor Bergmann
Da in Gunzenhausen sehr viele Bergmann-Familien ansässig waren, haben wir einen Stammbaum entworfen. Er steht als PDF-Datei (115 KB) zum Herunterladen zur Verfügung. Bitte klicken Sie hier.
Der Handelsmann Isidor Bergmann wurde am 27.04.1856 in Dittenheim geboren. Er ist der Sohn von Levi Bergmann und Eva Braumann.
1882 heiratete er Sophia Feuchtwanger aus Sulzbürg.
Das Ehepaar hatte drei Kinder:
| | |
| --- | --- |
| Ludwig | * 22.08.1883 in Gunzenhausen |
| Siegfried | * 15.10.1884 in Gunzenhausen |
| Erna | * 15.02.1893 in Gunzenhausen |
Isidor Bergmann besaß noch ein weiteres Haus im Auweg 25
Er hatte in Gunzenhausen verschiedene Gewerbe angemeldet, z. B. handelte er mit Gütern wie Vieh, Hopfen und Getreide.
Am 11.01.1897 starb Isidor Bergmann in Gunzenhausen.
Im Altmühl – Boten Nr. 155 vom 06.07.1914 veröffentlichte die Witwe folgende Anzeige:
"Allen Geschäftsfreunden und Bekannten beehre ich mich hierdurch mitzuteilen, daß der Hauptsitz meiner Firma ab 1. Juli 1914 nach Nürnberg, Sandstraße 14 verlegt wurde, jedoch das Geschäft in Gunzenhausen unverändert wie bisher verbleibt und weiter geführt wird. Als Geschäftsführer in Gunzenhausen ist Herr August Weigel, bisheriger Lagerhausverwalter der Fränk.Hohenlohen´schen Getreideverkaufsgenossenschaft Niederstetten bei mir eingetreten und habe ich demselben Handelsvollmacht erteilt."
Die Witwe Sophie Bergmann und ihre Familie verlegten noch im gleichen Monat ihren Wohnsitz nach Nürnberg.
Quelle: Personendokumentation der jüdischen Einwohner von Gunzenhausen, zusammengestellt von Werner Müllhäußer, Stadtarchivar in Gunzenhausen

Jan Meisl und Anastasia Mess
Die Nachkommen der Familie Isidor Bergmann
Im Januar 2012 meldete sich ein Nachkomme von Isidor Bergmann bei uns, nachdem er diese Seite im Internet gefunden hatte. Es ist Anthony Berendt aus Stafford in England.
Er schrieb uns interessante Informationen zur Geschichte seiner Familie.
Ich bin ein Nachkomme von Levi Bergmann durch meine Großmutter Erna väterlicherseits. Sie war die Tochter von Isidor Bergmann und Sofie geb. Feuchtwanger.

Erna heiratete Siegfried Berendt und sie bekamen einen Sohn Franz Ernst, geb. 1926 - jetzt Frank Ernest Berendt, mein Vater. Die junge Familie lebte in München, bis sie um 1930 nach London in England emigrierte. Siegfried starb dort 1947 und Erna 1972 …

Mein Vater erinnert sich noch an seine frühen Jahre in München, wo er bis zu seinem siebten Lebensjahr mit seinen Eltern Siegfried und Erna Berendt in der Franz-Josef-Strauß-Straße gewohnt hat – etwa bis 1931. Siegfried war Antiquitätenhändler und hatte einen Showroom im Hotel Bayerischer Hof, Geschäft und Büro waren irgendwo in München. Er lernte dort Kardinal Pacelli kennen und wurde ein Verehrer von ihm. Der päpstliche Nuntius und spätere Papst Pius XII war während seiner Zeit in München Gast in diesem Hotel gewesen.

1931 emigrierten Siegfried und Erna nach London, das Siegfried von seinen Geschäftsreisen her kannte und schätzte. Mein Vater erinnerte sich, dass Siegfried von Deutschland desillusioniert war und gespürt hat, dass das Leben schwieriger wurde. Am 1. April 1939 wurden sie offiziell britische Staatsbürger …

Ihr Sohn Franz Ernst heiratete Lady Frances, geb. Ryder, die Tochter des sechsten Grafen von Horrowby. Beide sind noch am Leben und wohnen immer noch in London. Sie haben zwei Kinder: Anthony Peregrine Dudley, geb. 1957 (Ich)
Susan Venetia, geb. 1952, verheiratete Williams sowie10 Urenkel und 3 Großurenkel. Dies alles ist sehr gut dokumentiert auf den English Genealogical Websites unter den Nachkommen des 6. Earl of Horrowby …

Mein Vater erinnert sich noch gut an seine Oma Sofie Bergmann, geb. Feuchtwanger. Sie wohnte vor 1939 bei ihnen in London, während sie auf ihre Einreise in die USA wartete. Er empfand sie als strenge Matriarchin.

Ernas Brüder Ludwig und Siegfried wanderten vor 1939 in die USA aus und lebten in New York.

Ludwig heiratete Elsa und bekam einen Sohn: Klaus, welcher zwei Töchter hatte. Ich besuchte im Jahr 1980 Klaus und seine Familie in New York.

Siegfried heiratete Lisa und bekam zwei Kinder, Traute (Trude) und John.

Ich glaube, dass Sofie eine Schwester namens Bertha hatte, die möglicherweise Siegfried heiratete. Siegfried Simon, der Direktor des Kaufhauses Tietz in Bamberg gewesen war, wanderte später nach Manchester in England aus, wo er später ein Bekleidungsgeschäft hatte. Er hatte drei Söhne, einer davon hieß Siegfried. Mein Vater meint, dass diese Söhne als sog. 'feindliche Ausländer' auf der britischen Insel Isle of Man inhaftiert und während des Krieges nach Australien deportiert worden sind. Nach dem Krieg kehrten sie nach England zurück.

Ich würde mich sehr freuen, wenn Sie mir die Adressen von anderen Nachkommen des Levi Bergmann oder von Simon Feuchtwanger mitteilen könnten.
Januar 2013
Ich war in Legau in Bayern und habe dort mit der Naturkostfirma Rapunzel zusammen gearbeitet. Dies ist der Grund, dass ich mich wieder dafür interessiere, die Wurzeln meiner Familie zu suchen ...

Ich denke, dass Ihr Projekt bewundernswert ist, nicht nur als ein Teil der Geschichte, sondern auch um zu erkennen, wie schwierig es selbst in einer relativ kleinen Stadt für die heute noch Lebenden ist, mit dieser Geschichte umzugehen.

Britische Bürger meiner Generation und der meiner Kinder müssen sich nicht mit diesen schwierigen Fragen befassen. Aber die Lehre daraus gilt für jedermann, unabhängig von Zeit, Ort und Volk.

Am 7. Dezember 2012 starb mein Vater sehr friedlich zu Hause, nach relativ kurzer Krankheit. Da er 88 war, war es sehr emotional, aber nicht traurig. Meine Mutter lebt noch, obwohl sie viel gebrechlicher ist.

Ich bin froh, dass ich letztes Jahr noch intensiv mit ihm über die Geschichte unserer Familie gesprochen habe, sonst wäre das jetzt alles verloren.

Ein Besuch in Gunzenhausen steht auf meiner Wunschliste!
Frank Ernest (Franz Ernst) Berendt Family 2003
(descendants of Siegfried Berendt and Erna Bergmann in UK)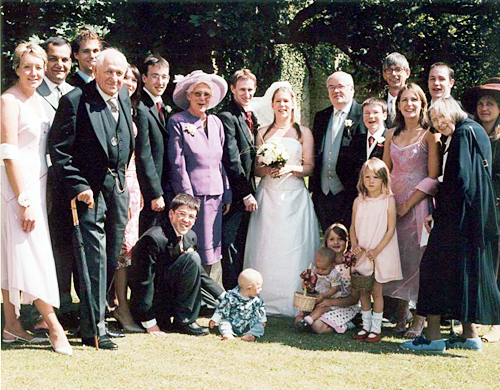 Left to right: Katherine O'Connor (Sykes m Thomas O'Connor), Thomas O'Connor (foster son of Frank and Frances Berendt), Ben Williams (nephew of Paul Williams), Frank Berendt (1), Joanna Eley (3) (Williams m John Eley not in photograph), Gavin Williams (3), Gerard Williams (3), Susan Williams (2) (Berendt m Paul Williams), Peter Armstrong, Emma Armstrong (3) (Williams m Peter Armstrong), Olivia Weedon (4), Hermione Berendt (3), Paul Williams, Hew Williams (3), Ottilie Berendt (3), Anthony Berendt (2), Helena Weedon (3) (Williams m Anthony Weedon not in photograph), Christopher Williams (3), Lady Frances Berendt (Ryder m Frank Berendt), Julia Berendt (Bigham m Anthony Berendt). Unborn as at 2011: Joseph Armstrong (4), Jack Weedon (4).
Photograph: Wedding of Peter Armstrong and Emma Williams 21 June 2003.
Note: Lineal descendants of Erna Bergmann in bold (#) = generation.
© Anthony Berendt
Jan Meisl und Anastasia Mess
The descendents of Isidor Bergmann
In January 2012 a descendent of Isidor Bergmann sent us a message, after he had found this site on the internet. It's Anthony Berendt from Stafford in Great Britain.
He wrote us interesting information about the history of his family.
I have been very interested to read your project.
I am a descendant of Levi Bergmann through my paternal grandmother, Erna, daughter of Isidor Bergmann and Sofie nee Feuchtwanger.

Erna married Siegfried Berendt and had a son Franz Ernst b. 1926 (now known as Frank Ernest), my father. They lived in Munich until emigrating to London, England around 1930. Siegfried died around 1947 and Erna around 1972.

Franz Ernst married Lady Frances nee Ryder, daughter of the 6th Earl of Harrowby, and are both still alive and live in London. They have children Anthony Peregrine Dudley b. 1957 (me) and Susan Venetia verh. Williams b 1952 and 10 grandchildern and 3 great-grandchildren. These are all well documented on English genealogical websites under descendants of the 6th Earl of Harrowby.

My father remembers well his gradmother Sofie Bergmann nee Feuchtwanger, who stayed with them in London while waiting for her entry visa to the USA before 1939. She was a terrifying matriarch to my father!

Erna's brothers, Ludwig and Siegfried emigrated to the USA also before 1939 and lived in New York.

Ludwig maried Elsa and had a son, Klaus, who had two daughters. I visited Klaus and family in New York in 1980.

Siegfried married Lisa and had two children, Troute and John.

I believe that Sofie had a sister Bertha who married [possibly Siegfried] Simon, who may have been a director of the Tietz Department Store in Bamberg. They later emigrated to Manchester, England where they had a clothing business. They had three sons, one of whom may have been called Siegfried. My father believes the sons were interned as "enemy aliens" on the Isle of Man and deported to Australia during the war, returning to the UK after the war.

I would be very pleased if you can put me in touch with any other descendants of Levi Bergmann or members of the Simon /Feuchtwanger ...

My father Franz Ernst Berendt (now known as Frank Ernest in the UK), born 1924, remembers his early years in München where he lived until aged 7 with his father Siegfried Berendt and his mother Erna (Bergmann) in Franz-Josef Straße until around 1931. Siegfried was an antique dealer, who had a show room in the Hotel Bayerischer Hof, and a warehouse and office elsewhere in München. He got to know and became an admirer of Cardinal Pacelli, the Papal Nuncio, later Pope Pius XII, who was a resident at the hotel during his time in München. In 1931 Siegfried, Erna and Franz Ernst emigrated to London, England, which Siegfried had come to know and like from his business visits. My father recalls that Siegfried had become disenchanted with Germany and felt that things would get worse. They were naturalised as British citizens on 1 April 1939. Siegfried died around 1947 (I need to verify this date). Erna Berendt (Bergmann), my grandmother, lived in an apartment in my parents' house after their marriage in 1949, at 8 Stormont Road, Highgate, London N6 4NL, until her death around 1970 (I need to verify this date). I was born in 1957 and remember her very well. She always was "exotically" German to me; she was also very Jewish culturally, even though she rarely attended synagogue and did not observe Jewish rituals or festivals to my knowledge.

Sofie Bergmann ran the family grain business in Nürnberg, based at Sandstraße 14, with her sons Ludwig and Siegfried. I believe that Sophie emigrated to the USA by ship from Southampton, UK in 1938. While waiting for her US visa, she lived in London with Siegfried and Erna. My father recalls that she was "tyrannical" - which probably means that she was a typical Jewish matriarch, who had been forced to make her way and keep a family of three in a male business world after her husband Isidor died in 1897 when she was 36 years old.

Ludwig Bergmann married Elsa (maiden name unknown), and had a son Klaus. They moved to New York, USA late in the 1930s. Klaus had two daughters. I met Klaus and the daughters in New York in 1980.

Siegfried Bergmann married Lisa (maiden name unknown), and had a daughter Traute / Trude, who committed suicide unmarried, and a son John, who married. They moved as a family to New York in the late 1930s. Before emigrating Siegfried was interned in Dachau, but somehow managed to secure his release.

Sofie Bergmann had a sister, Bertha, who married Siegfried Simon, who became a Director of Tietz Department Store in Bamberg in 1919. He emigrated to Manchester, UK, where he established a textiles business. He had 3 sons. My father recalls that some or all of their sons were interned on the Isle of Man, UK, as enemy aliens and "evacuated" or deported to Australia, returning to the UK after WW2. I have a record of a Siegfried Simon, clothing manufacturer in Manchester, who is naturalised as a British citizen in 1949. This could be the husband or son of Bertha.

My grandfather Siegfried Berendt returned to Germany in 1938 to bring his father, Simon Berendt, to London after the death of his wife Helene nee Wachenheimer. Simon Berendt was a school teacher and lived in Veitshöchheim, Bad Sobernheim and Bad Ems.

My father and mother, nee Lady Frances Ryder, met at Oxford University, and married in 1949. My mother came from an Anglican (protestant) family, part of the aristocratic, political and business establishment in the UK, and converted to Roman Catholicism. My sister Susan and I were brought up as Roman Catholics. My father remains Jewish, but religiously agnostic.

My father and mother visited Franz-Josef Straße in the 1950s, but there was nothing left after the bombing of WW2. I would love to come and visit, meet your children and do some research. It looks a very beautiful place …
A year later he wrote
I have been in Bavaria, Legau, working with the organic food company Rapunzel. This is the reason for reviving my interest in tracing my family roots.

I think that your project is so admirable, not just as a piece of history, but as part of facing up to very difficult issues which affect people who are still alive in a relatively small community. British people of my generation, and my children's, do not have to deal with these difficult issues, but the lessons apply to everyone regardless of time, place and tribe …

My father died very peacefully at home on 7 December 2012, after a relatively short period of illness. As he was 88, it was emotional but not sad. My mother lives on, although she was much more frail.

I am pleased I talked through the family history in detail with him last year, as it would all be lost to me.

A visit to Gunzenhausen is on my wish list!
Frank Ernest (Franz Ernst) Berendt Family 2003
(descendants of Siegfried Berendt and Erna Bergmann in UK)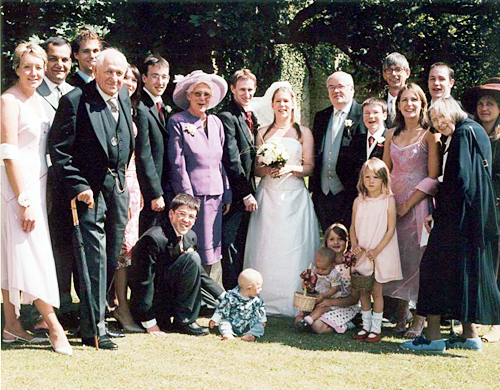 Left to right: Katherine O'Connor (Sykes m Thomas O'Connor), Thomas O'Connor (foster son of Frank and Frances Berendt), Ben Williams (nephew of Paul Williams), Frank Berendt (1), Joanna Eley (3) (Williams m John Eley not in photograph), Gavin Williams (3), Gerard Williams (3), Susan Williams (2) (Berendt m Paul Williams), Peter Armstrong, Emma Armstrong (3) (Williams m Peter Armstrong), Olivia Weedon (4), Hermione Berendt (3), Paul Williams, Hew Williams (3), Ottilie Berendt (3), Anthony Berendt (2), Helena Weedon (3) (Williams m Anthony Weedon not in photograph), Christopher Williams (3), Lady Frances Berendt (Ryder m Frank Berendt), Julia Berendt (Bigham m Anthony Berendt). Unborn as at 2011: Joseph Armstrong (4), Jack Weedon (4).
Photograph: Wedding of Peter Armstrong and Emma Williams 21 June 2003.
Note: Lineal descendants of Erna Bergmann in bold (#) = generation.
© Anthony Berendt
---

Last updated 20.04.2013 by Franz Müller